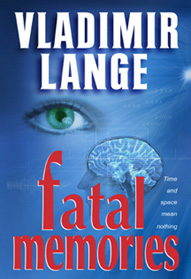 Fatal Memories breaks the mold of medical thrillers by combining compelling, multi-layered characters with far-reaching, science-based technology and vivid cinematic prose to reach a thrilling and inevitable conclusion:
We are what we were.
The MEG - a revolutionary brain scanner - is the culmination of Dr. Anne Powell's brilliant career as a neuro-psychiatrist. Designed to accomplishing in seconds what conventional psychotherapy can only hope to achieve in years, the MEG could change the course of psychiatric treatment forever - if it doesn't kill her first.
A clash with the FDA forces Powell to leave Boston and continue her research at the world-renowned Pavlov Institute in Moscow. There, a laboratory accident reignites a centuries-old conflict, and threatens to return a blood-thirsty dictator to power.
Powell soon realizes that the MEG is capable of far more than brain-scanning. She is forced to confront past and present, reality and memory, love and hate in the ultimate battle to save herselfˇand thwart a plot that could hurl a newly democratic Russia back to its totalitarian past.